This article will help you understand what kind of things you can't send with Sendle, covering prohibited goods, dangerous goods, owner's risk and the right of refusal for both domestic and international parcels.
Owner's risk
These items can be sent at 'owner's risk'. This means that you can send them with us if you want to, but they are not covered by Sendle's cover policy. We strongly advise that you arrange your own cover for loss or damage.
Second-hand car parts

Perishables (e.g. fresh fruit and vegetables, meat or frozen goods)

Flowers or plants

Cash or other negotiable instruments (e.g. tickets)

Irreplaceable items, legal documents

or other valuables

Fine art

Personal effects

Jewellery, gems, trinkets or personal ornaments like rings, necklaces, trinkets or other items containing jewels or precious metals

Small quantities of lithium-ion batteries and brand new electronic devices with built-in batteries, or similar
Prohibited goods
Hand sanitisers

For domestic: Anything that weighs more than 25kg, length of more than 1.8 metres or volume exceeding 100L

For international: anything that weighs more than 20kg or dimensions that exceed 150cm, with no side longer than 105cm. (For parcels under 1.5kg,

dimensions cannot exceed 90cm or any side longer than 60cm.)

Check out more info on sizes

Any items that are illegally procured

Any items to be used for illegal purposes

Live animals or other living goods

Cigarettes or tobacco products

Firearms/weapons (Including dummy, non-firing or museum replicas)

Airbags

E-cigarettes and any of their components (vaping products)

Marijuana (both medical and recreational), CBD, or hemp

Narcotics and controlled substances legally obtained

Firearms (guns) and weapons (Including dummy, non-firing, or museum replicas)

Ammunition

Knives/sharp instruments

Dangerous goods

Shipments that may cause damage or delay to equipment, personnel, or other shipments

Animal remains

Animal products, non-domesticated

Human remains, fetal remains, human body parts, human embryos, or components thereof

Counterfeit goods

Furs

Ivory

Medicine and prescription drugs

Shark fins

If sending domestic parcels to WA: All organic and garden products are prohibited (eg plants, seeds, cut flowers, honey, compost, fruit and vegetables)
If sending parcels with our Express service: We can't ship alcohol with our Express service, because of the mode of transport used (this is because it may include air travel).
Dangerous goods
Dangerous goods are substances or articles with hazardous properties which, if not handled correctly, may:
Explode

Asphyxiate

Burn

Poison

Eat skin or metals

Pollute the environment

Become unstable with other products
This includes (but is not limited to):
Toxic gasses or substances

Explosive goods

Goods which are or may become dangerous (including radioactive materials) or spontaneously combust

Organic peroxide

Infectious substances

Corrosive substances

Flammable liquids or solids

Any other goods which may become liable to damage any person or property whatsoever

Dangerous goods (which may include general health and beauty products, such as aerosol-based products like hairspray, tanning spray, shaving cream and deodorant, aftershave and mouthwash containing alcohol, nail polish and nail polish remover with acetone, alcohol-based perfumes, rubbing alcohol or hand sanitisers)

Toys without a CE marking, registered trademark, accompanying user instructions and labelling with the country of origin and warning labels (for example: age recommendation/loose parts)
Batteries
We know how common battery-powered, electronic devices are so it can be tricky to navigate what's OK to send with us (and what's not). There are a lot of technical terms involved, but hopefully this section helps clear up any confusion!
These devices with built-in batteries are acceptable

:
You can send small quantities of brand new electronic devices with built-in batteries that cannot be removed or replaced by the user. Remote control (RC) toys, drones, mobile phones, laptop computers and handheld power tools (ie: small quantities of brand new electronic devices with built-in batteries that can't be removed or replaced by the user).

You may also send tested, proven non-spillable batteries in proper packaging. That's because these types of batteries are allowed to be shipped as non-hazardous items under international rules (as they will not leak from a cracked case at high-temps). Batteries and packaging may also be marked "NON-SPILLABLE" or "NON-SPILLABLE BATTERY"
These devices are NOT acceptable
(even though they have in-built batteries):
Automotive (car) battery

Electric wheelchair battery

Fuel cell-based portable backup power supply

Electric vehicle battery

Spare dry-cell batteries (large quantities)

Samsung Galaxy Note 7 phones

Old mobile phones (to be recycled)
Dry-cell batteries are NOT acceptable:
Common dry-cell batteries (for example: AA, C, D) might not be regulated as hazardous materials, but all batteries can cause fires from a short circuit if terminals are not protected.
These ones cannot be sent with Sendle:
Lithium metal battery (rechargeable)

Spare dry-cell batteries (large quantities)

Sodium batteries
Lithium-ion batteries are NOT acceptable for international parcels:
Lithium-ion batteries are subject to special regulations and are found in common items like mobile phones, watches, flashlights, and laptop computers.
At this stage, Sendle doesn't accept lithium-ion batteries for international orders (whether they're built-in or not). This is because the Civil Aviation Safety Authority does not permit the transport of lithium-ion batteries via air.
They can cause fires if dropped, crushed or short-circuited, which is why these can't be sent with Sendle internationally:
Lithium-ion lithium cobalt oxide

Lithium-ion manganese oxide battery

Lithium polymer battery

Lithium iron phosphate battery

Lithium-sulfur battery

Lithium-titanate battery
However, small quantities of lithium-ion batteries can be sent domestically, because parcels are transported by road (just make sure they have a safety data sheet and the parcel should be properly labelled with battery caution):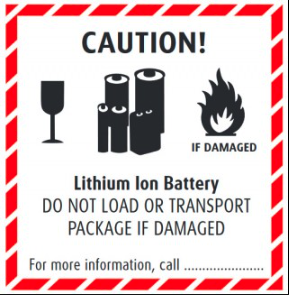 Lead-acid batteries are NOT acceptable:
These batteries contain highly corrosive acid and can cause fires from short circuits, so don't send them with us:
Deep cycle battery

Valve regulated lead acid (VRLA) battery

Absorbent Glass Mat (AGM) battery

Gel battery
Battery components are NOT acceptable:
Battery fluid

Battery acid

Battery water
Dangerous goods declaration
To be able to send a parcel with Sendle, we need an agreement from you to never send dangerous goods with us. You'll be prompted to make this declaration the first time you use Sendle (covering the lifetime of our relationship).
Right of refusal
We are entitled to refuse to accept for carriage any of the goods listed above.
Important information
When you use the Sendle service, you provide us with a warranty that your parcel does not include any prohibited or dangerous goods. Goods of this nature will not be covered, and cannot be transported by our couriers.
If you send a parcel that contains any of these goods, it means you've breached the terms of your warranty given to Sendle, and caused Sendle to breach its cover policy and courier terms.
If that's the case, Sendle's delivery partners have the right to dispose of any parcel deemed to contain prohibited or dangerous goods.
In these circumstances, you will be fully responsible for any adverse consequences that arise from you sending the goods, including loss or damages. You may be liable to Sendle for all damages, injuries, and claims that arise from your sending prohibited goods. Sendle may also choose to disable your account.
Sendle has the right to refuse to accept for carriage any prohibited or dangerous goods or to refuse to pick up a parcel if we reasonably suspect that it may include any prohibited or dangerous goods. Sendle will not be liable for parcels where we refuse to collect it under this clause.
---
Here are some more Sendle parcel pointers: