Choosing the right size option for your parcel will ensure there are no hiccups along the way. And we'll show you how to do it!
This article has all the information you need to master the Sendle booking process, how to choose the right size for your parcel and how the shipping cost is calculated.
Size calculator
Sendle has one satchel size, and five box or satchel sizes available – however keep in mind that each size has both a cubic volume limit, and unless you're taking advantage of The Unlimited Satchel offer, and a weight limit.
We've got a handy calculator to help you figure out the perfect size for your parcel dimensions. This is how you use it via your Sendle dashboard: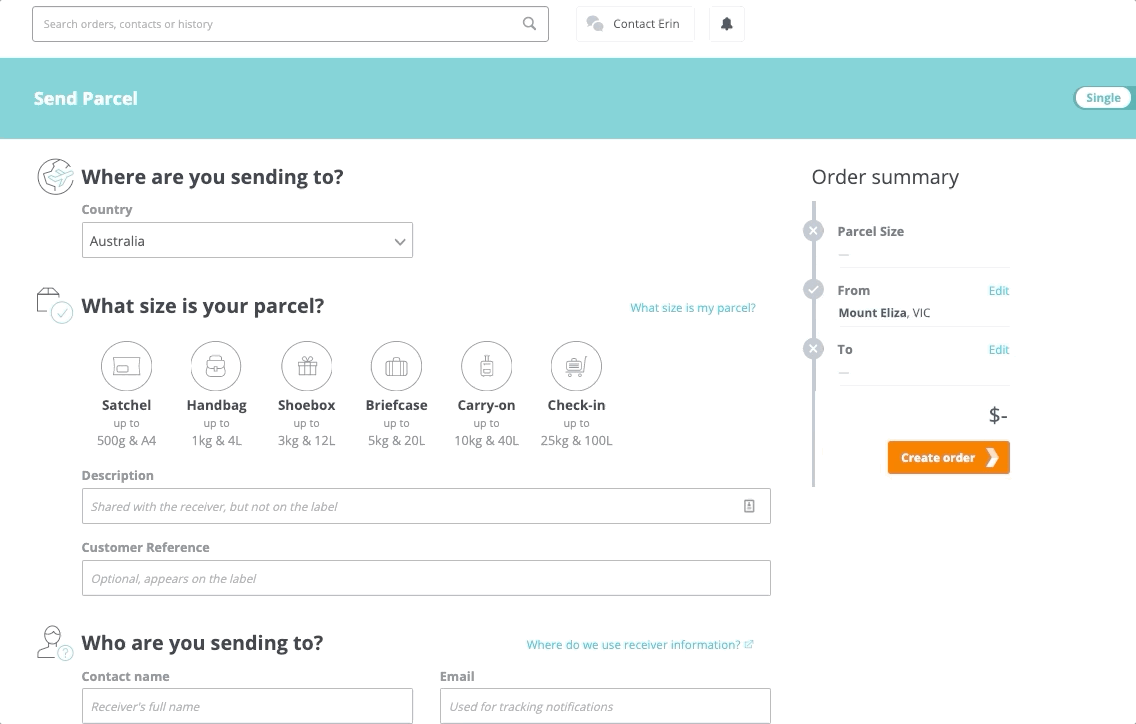 You need to choose a size that fits both the weight and volume under the limit. Here are the current Sendle size options:
Satchel - up to 500g and 2L/A4 (You can also use this option to book The Unlimited Satchel - no weight limit up to 2L/A4 when using Sendle's compostable A4 Satchels)

Handbag - up to 1kg and 4L

Shoebox - up to 3kg and 12L

Briefcase - up to 5kg and 20L

Carry-on - up to 10kg and 40L

Check-in - up to 25kg and 100L
Keep in mind that the 'Check-in' size is only available for pickup (and not drop off), due to the size restrictions. You can also find out more about international weights here
Maximum sizes
The longest side of any parcel cannot be bigger than 1.2m (120cm)

The largest volume for any parcel is 100L

The heaviest weight for any parcel is 25kg
How to calculate volume: 
Volume is calculated as a cube (like a box) in litres. Litres are calculated by multiplying the centimetre of the three dimensions in centimetres and dividing by one thousand (height X width X depth [all in cm] ➗ 1000).
Examples
Both of these fit under the weight and volume limit for a 5kg and 20L briefcase size parcel:
10cm x 40cm x 50cm (20L) + 1kg

1cm x 40cm x 50cm (2L) + 5kg
Neither of these parcels fit into the 5kg and 20L Briefcase size parcel. Either the weight or the volume exceeds the briefcase limits:
10cm x 40cm x 50cm (20L) + 9kg = Carry-on.

100cm x 15cm x 20cm (30L) + 1kg = Carry-on.
Mailing tubes/cylinder-shaped parcels
Mailing tubes, or any parcel that is cylinder-shaped, are charged on the same basis as all Sendle parcels – that is, we need to consider both the weight (kg) and volume (L). 
To find the volume, we still want to treat it like we're finding the volume of a box, only with diameters instead of width/height.

For a tube/cylinder, this would be (length x diameter x diameter)/1000 = litres.

 
Here's an example: a tube that is 100cm long, with a diameter of 12 cm is: (100x12x12cm)/ 1000 = 14.4L
Parcel restrictions
In addition to the liter volume, the weight must also be considered when selecting the right size. For example, if the tube is 14.4L and it weighs under 5kg it must be booked as a Briefcase size (20L/5kg max)

All parcels sent with Sendle need to be under 100L, under 25 kg and the length under 120cm in order to be fit for Sendle
Also, take note of how your label fits on the tube. It's very important that the parcel can scan correctly, otherwise the courier may reject it at pick-up.
---
Want to get started? You might like these: