Choosing the right size option for your parcel will ensure there are no hiccups along the way. And we'll show you how to do it!
This article has all the information you need to master the Sendle booking process, including: custom and common sizes, how to measure, and how the shipping cost is calculated.
Choosing the right size
Custom sizes
To make sure your Sendle booking is correct, you'll be prompted to choose your package type and enter your parcel's dimensions (we've popped a quick guide to measuring further down this page). Just make sure you account for all the dimensions of your outer packaging as well, to avoid adjustment charges!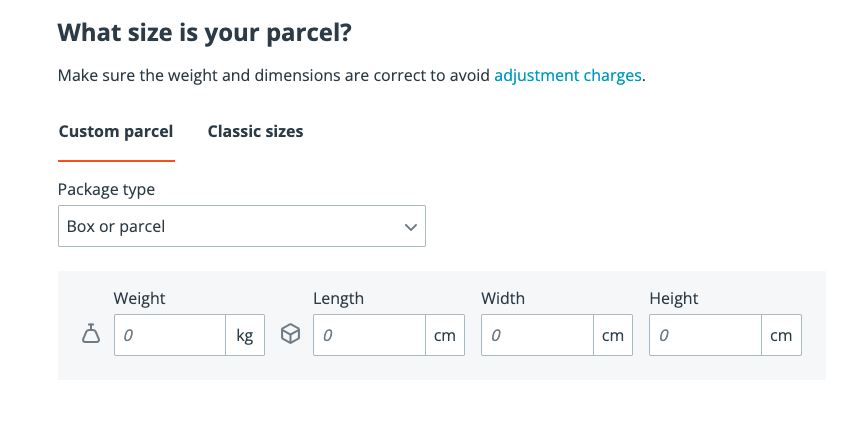 Maximum sizes
The longest side of any parcel under 20kg cannot be bigger than 1.2m (120cm) – or 80cm if you're sending a 250g Pouch.
The longest side of any parcel over 20kg (up to 25kg) cannot be bigger than 1.8m (180cm).
The largest volume for any parcel is 100L
The heaviest weight for any parcel is 25kg
Things to keep in mind:
If you send a parcel that's under 20kg but longer than 1.2m, that's cool too: we'll just bump it up to the 20kg weight bracket and price.
If the item you're sending is oversized, you may be charged an oversize penalty fee of $22 including GST.
For example (and from our experience), while prams and bikes aren't prohibited, they are simply just too big to send with Sendle (this is also why we don't recommend using Sendle to move house)!
Common sizes
These sizes are handy if you know your items easily fit the maximum dimensions for each one. The sizes are: one pouch (under 250g) size and five box sizes – each size has both a weight and cubic volume limit, which includes the outer packaging. If you're sending over 10kg, you'll need to enter a custom parcel size.
Keep in mind: for parcels booked as 'Handbag' size or larger and packaged in loose outer packaging (like a bag), then the 'excess' space around the parcel contents should be taped down to avoid any adjustment charges (as this excess space in larger packaging contributes to the parcel's volume measurements).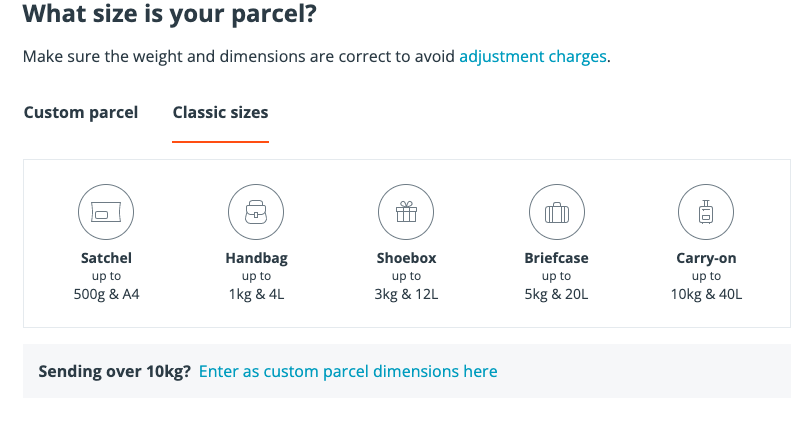 Here are the current classic Sendle size options:
Pouch - up to 250g

Satchel - up to 500g and 2L/A4 (you can also use this option to book The Unlimited Satchel via the Sendle dashboard or Shopify - no weight limit up to 2L/A4 when using

Sendle's compostable A4 Satchels

)

Handbag - up to 1kg and 4L

Shoebox - up to 3kg and 12L

Briefcase - up to 5kg and 20L

Carry-on - up to 10kg and 40L
You can also find out more about international sizes and weights here.
Measuring
How to calculate volume:
Volume is calculated as a cube (like a box) in litres. Litres are calculated by multiplying the centimetre of the three dimensions in centimetres and dividing by one thousand (height X width X depth [all in cm] ➗ 1000).
Examples using weight and volume measurements
Parcel A
Weight: 1.5kg
Volume: 20L (10cm x 40cm x 50cm)
Correct size: Briefcase (5kg and 20L)
Even though the weight fits a smaller size (Shoebox 3kg and 12L), the volume is too large for this option (because it is 20L), so the correct size becomes 'Briefcase' – as it has a larger volume allowance.
Parcel B
Weight: 2.5kg
Volume: 2L (1cm x 40cm x 50cm)
Correct size: Shoebox (3kg and 12L)
Even though the volume fits a smaller size (Handbag 1kg and 4L) the weight is too heavy for this option (as it is 2.5kg), so the correct size is Shoebox with the heavier weight allowance.
Parcel C
Weight: 20kg
Volume: 104L (43cm x 40cm x 60cm)
Correct size: None
Even though the weight is below the maximum size allowed (Check-in 25kg and 100L) the volume is over the maximum allowed to be sent with Sendle and will not be collected.
Mailing tubes/cylinder-shaped parcels
Mailing tubes, or any parcel that is cylinder-shaped, are charged on the same basis as all Sendle parcels – that is, we need to consider both the weight (kg) and volume (L).
To find the volume, we still want to treat it like we're finding the volume of a box, only with diameters instead of width/height.

For a tube/cylinder, this would be (length x diameter x diameter)/1000 = litres.
Here's an example: a tube that is 100cm long, with a diameter of 12 cm is: (100x12x12cm)/ 1000 = 14.4L
Also, take note of how your label fits on the tube. It's very important that the parcel can scan correctly, otherwise the courier may reject it at pick-up.
If your parcel is over the selected size
If your parcel is found to be larger in either weight or volume (including outer packaging) once it goes through processing at the depot, an adjustment charge may be added to your invoice. We've put all the information about adjustment charges here.
---
Want to get started? You might like these: