Sending parcels with Sendle is super easy. You can get quotes, book deliveries and print labels straight from your dashboard.
Below is a step by step guide to sending your first parcel with Sendle, once you have created an account.
(Haven't done that yet? No problem – head to sendle.com and hit 'Get started'. We'll meet you back here.)
Sending your first parcel
1. Open up your dashboard and click the 'Send a Parcel' button below 'Welcome to Sendle!'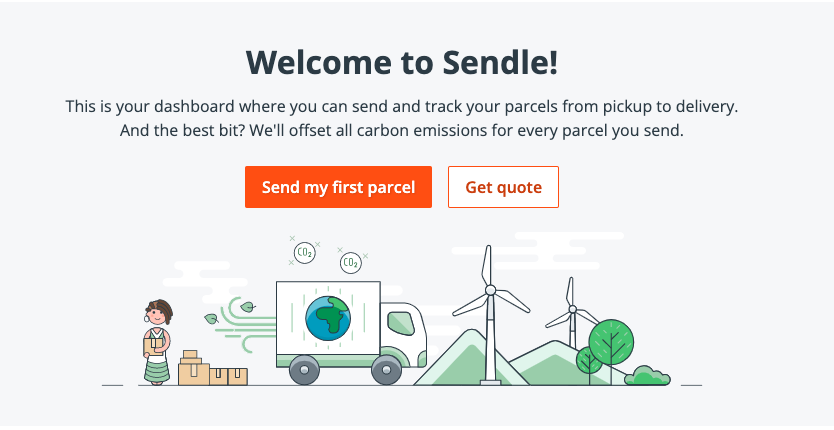 2. This will prompt you to fill in your contact info and pickup address. This information will be saved in your account settings to make future bookings much faster (but you can change it on the fly if you need to). Don't forget to include any relevant pickup instructions for the pickup driver and tick the box so we know you aren't sending any dangerous goods!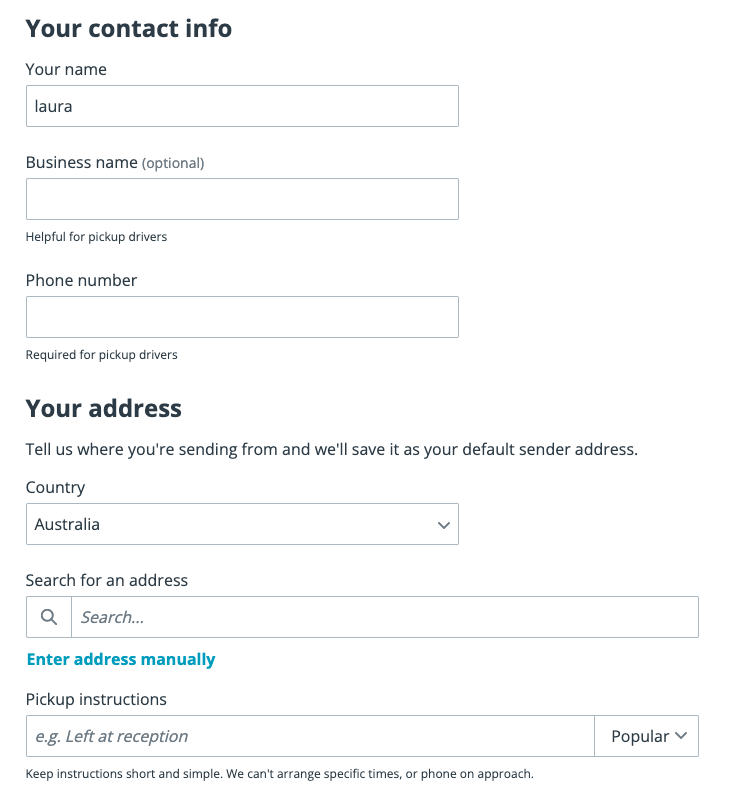 3. Then you can tell us who you're sending to, and pick the right package type (satchel or box), size and weight for your delivery. You can either measure your parcel for a custom size, or select one of our classic sizes. Just make sure you account for all the dimensions of your outer packaging to avoid adjustment charges! We've popped more info about our parcel sizes and weights in this article.
Good news: if you choose a custom measurement, you can save it to your account as a 'saved size'.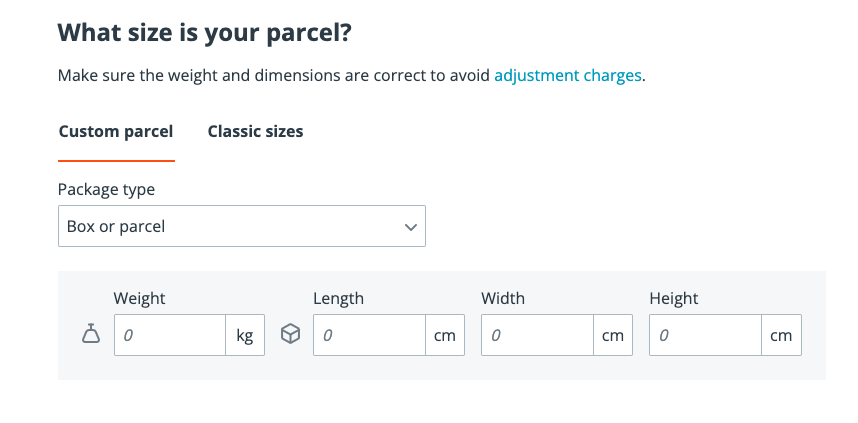 4. Choose one of the delivery options (pick up or drop off), or even Sendle Express if it's available for your order. You can choose your preferred pickup day from the drop down options.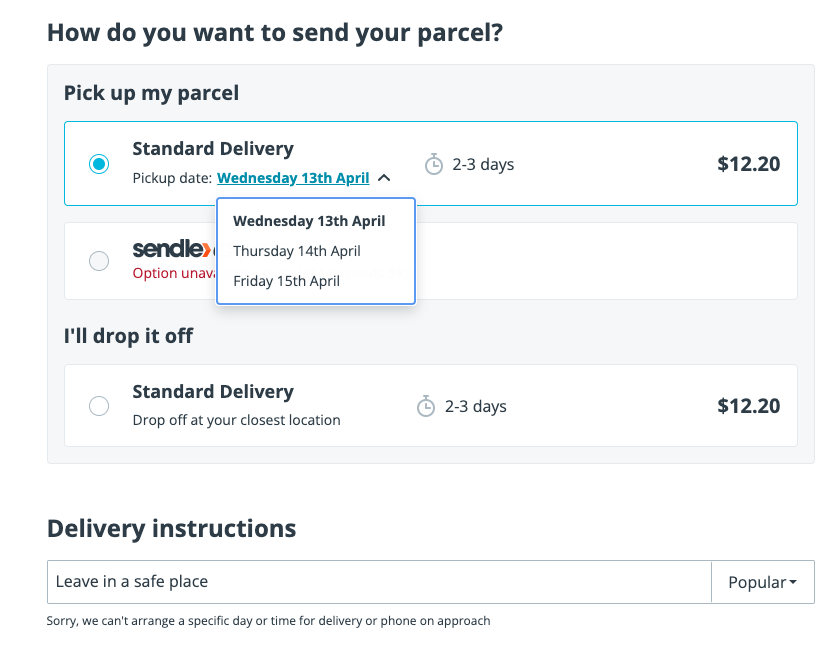 Keep in mind: Clear delivery instructions are the best way of preventing anything from getting in the way of a fast and easy delivery (many of our customers give the delivery driver 'Authority to Leave' the parcel somewhere safe).
5. Your Sendle order includes free Sendle Cover for loss or damage up to $100. However, you can add extra cover up to a total covered value of $1,500 if you're sending something valuable.
6. Tap 'Create order' to review your order, address details and parcel size.
7. You'll then be prompted to complete your payment information. This will need to be a credit card (or a debit card with credit functionality). Your payment will be charged the following Monday.
8. Once your card details are successfully added to the order, you can confirm the order.
9. You'll be directed to your dashboard to download and print the label for your parcel (make sure you don't resize or shrink it!). Then you can easily track it while it's in transit.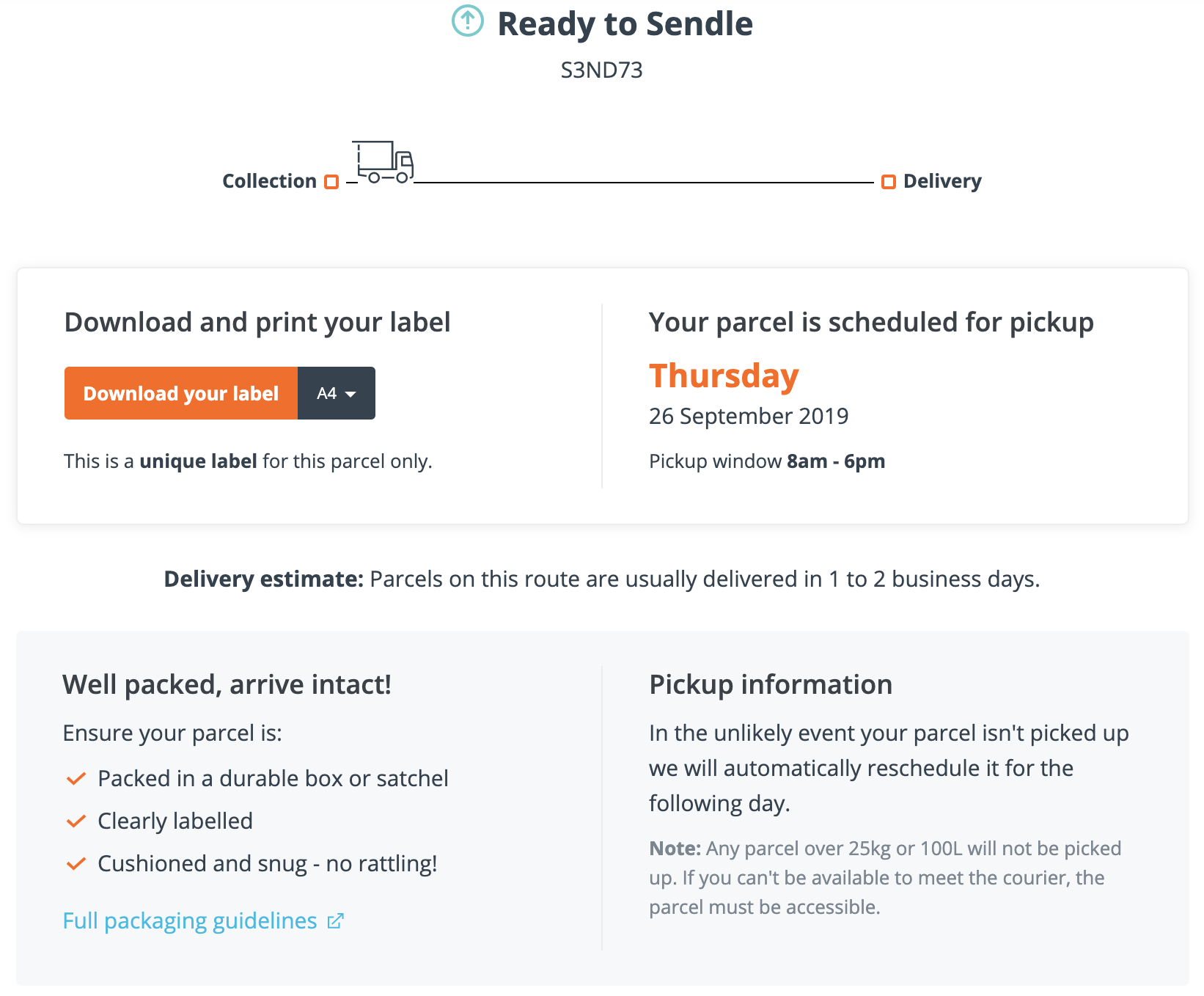 Pack it up
Now it's time to safely package your parcel and attach the label to the parcel so the pickup driver can identify it (and so that we can track the parcel each step along its journey).
Yay it's pickup day!
Make sure your parcel is left as per the pickup instructions (we can't guarantee the driver will get any last-minute updates as they'll be on the road!). If you're sending internationally,

this article will have lots of handy information

.

The pickup driver will add your pickup to their route for that day (drivers pick up all their parcels and then

take them back to their depot

for sorting and delivery).

You'll be able to track all your deliveries in

your dashboard

. We've made it easy to

manage your parcel

in your Sendle Toolbox.
---
These articles might also be handy for your next parcel delivery: