If you're receiving a parcel and want to learn more about the Sendle Toobox, head over here
At Sendle, we're for small business. From day one, we set out to fix the pain points of parcel delivery and we haven't stopped since. We're always looking for ways to improve your experience and help your business thrive.
Say hello to the Sendle Toolbox!
We've created the Sendle Toolbox so you can manage your parcel with ease.
The Toolbox is a bunch of quick, easy to use, in-dashboard tools that allow you to make changes or launch an investigation in a matter of minutes (without having to lodge a support ticket or wait on a response).
Why the Toolbox is awesome
In the hustle and bustle of growing your business, you want to know your parcel has been picked up, is in safe hands, and is on its way. You also want to have clear updates for your customers at every step of the delivery for peace of mind.
So we took a look at what you most regularly wanted to check on or change about parcel deliveries, and developed the Toolbox around those.
It puts more control in your hands and time back in your day.
What you can do with the Sendle Toolbox
Here's a quick rundown of all the ways you can manage your parcel with the Sendle Toolbox.
Reschedule pickup
Make a change to parcel pickup date (for example: your parcels weren't quite packed up when you thought they'd be and you weren't ready for the pickup driver).
Missing parcel enquiry
Track down a parcel that you have not received that is marked as 'delivered' by the driver.
Late parcel enquiry
Track down a parcel which hasn't been delivered by the estimated delivery date.
Make a claim for damaged parcel
Report a damaged parcel and make a cover claim directly from your Sendle dashboard.
Request redelivery (updated details needed)
Request a redelivery if you've entered delivery details incorrectly the first time around (for example: if you've left off the apartment number when entering the street address and need to include this detail for a successful delivery).
Request redelivery (card left)
Arrange for a redelivery free of charge, if your delivery was attempted but no one was home to receive the parcel (for example: the delivery driver did not have authority to leave the parcel and the receiver was not at home to sign for it).
Parcel received
Let us know when the parcel has been received, so our support team can close any pending investigations and mark the parcel delivered.
Create a return label
Create a label that your customer can use to return their parcel. You can send this label out with the parcel, or create it on request and email it to your customer to us.
Using the Sendle Toolbox
First, log in to the

Sendle dashboard

.

Select one of your parcels, and within the parcel tracking page you'll see a new section —"Manage parcel".

This is your Sendle Toolbox! Depending on where your parcel is in its journey, you'll see a few different options from the list above in the drop-down menu (if your parcel is ready for pick up, you'll likely want to check or change different things to if your parcel is already on its way, so we'll only show you what's relevant at any given point).

Once you select your tool, you'll be asked to enter a few details. This information will be sent to the driver and our support team, so it's important that everything is entered accurately.

Enter all your details and submit your request (the big orange button will do it!).

You'll receive a notification that your request has been received.
What happens next?
Any change you make with the Sendle Toolbox will be logged and updated in your tracking history, where you can follow the status of your delivery.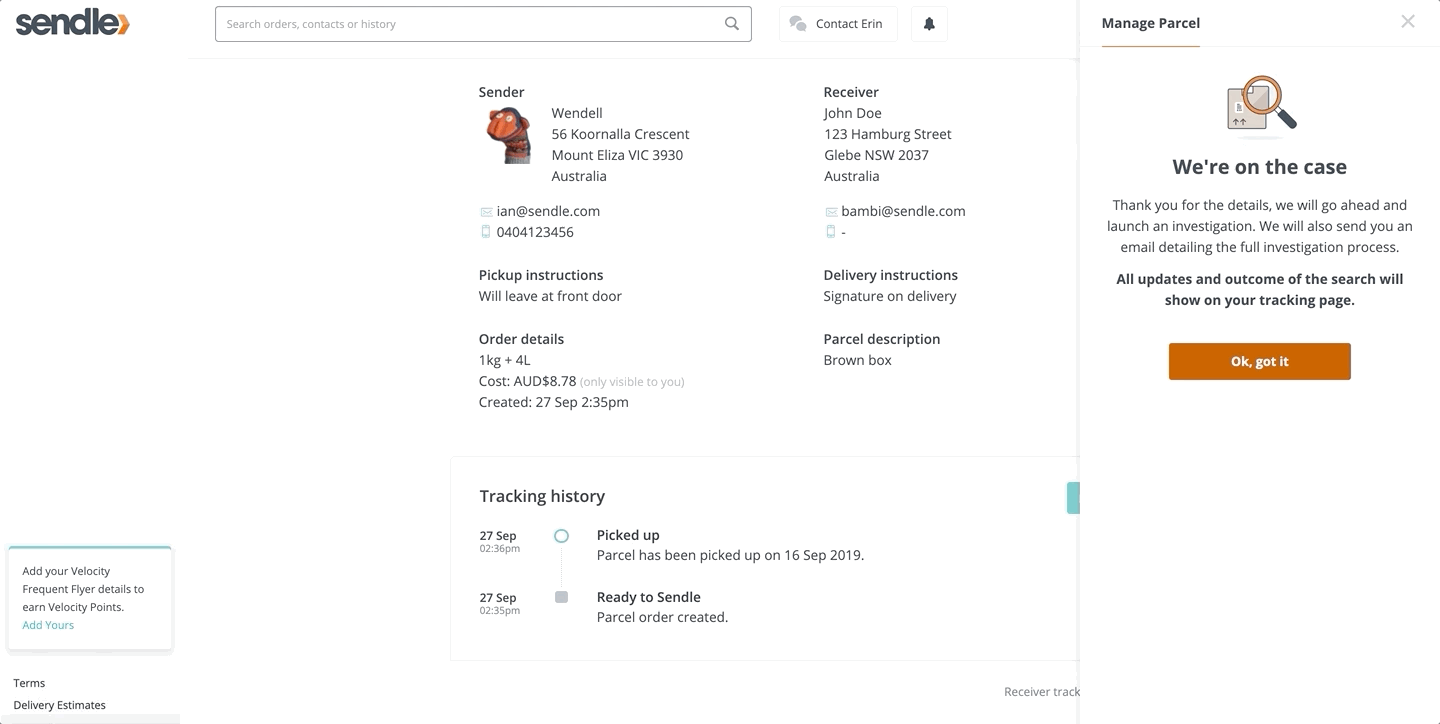 For parcel investigations, all updates and the outcome of the search will be logged on your tracking page. You will also receive a confirmation email that we're on the case, including your investigation reference number.
If you need more help
We believe parcel delivery should be simple, reliable and affordable – so we've designed the Sendle Toolbox to give you an even better experience sending and receiving parcels.
But we also know that sometimes you just need to speak with a human!
The good news is that the people-powered Sendle support team haven't gone anywhere – we're still here if you need us for some of the trickier things.
---
These articles might also be useful: