It can be tricky to organise a day where you'll be home to wait for a courier to pick up your parcel. But what if we told you… you could take your parcel to a drop-off location and allow more flexibility in your day? Game-changer.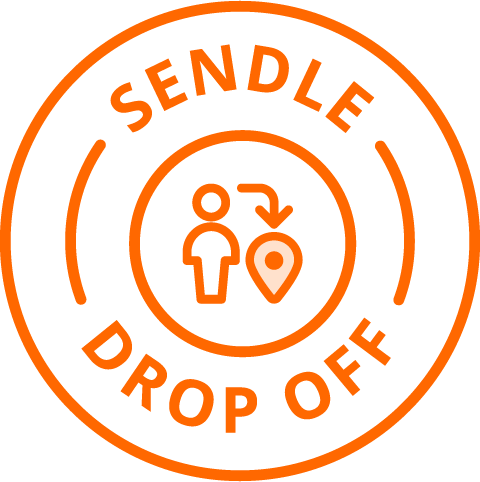 With Sendle, you can drop off your parcels when and where you like from our national network of locations. These include lots that are open 24 hours, 7 days a week (like BP petrol stations, news agencies, and pharmacies).
Please note that in order to use our drop-off service, your location still needs to be part of our pickup network.
Here's why it's cool:
Fits in with your busy schedule

Drop off the same day you book

Extended opening hours (because many are open 24/7)

It doesn't cost you any extra $$
How to book the Sendle drop off service:
Fill out your contact info and parcel details as per usual.

Select 'I'll drop it off' under the section 'How do you want to send your parcel?'

Print off your label and attach it to your parcel.

Drop the parcel off at any one of the locations in the delivery network (there's over 900 of them – check the

location map

here!) - to help you out, we pop the info for the closest one to your address on the order form.

Then it'll be scanned and accepted into the system where you can track it from your dashboard.

Have more questions about Sendle's drop-off function?
No worries. We'll do our best to answer some of the most common questions below:
Can I drop off my parcel at a depot?
No, our drop-off locations are powered by HUBBED – a network of news agencies, retail stores, petrol stations, and the like who will accept Sendle parcels for pick up.
What is a HUBBED drop-off location?
A national network of parcel drop-off locations including retail stores with many open 24 hours, 7 days a week, BP Petrol stations, news agencies, and pharmacies.
Do I have to drop off at my closest location?
It is possible that you have many nearby drop-off locations, so to allow flexibility in your schedule, you can drop them where it suits you best, even if it's not the very closest location to your address.
My local drop-off location was closed when I arrived.
We'll help you sort it out. Just contact the Sendle customer service team at sendle.com/help
Are there limitations on the size or type of parcels I can drop off?
Yes, drop-off locations can accept any parcels up to Sendle's 'Carry-on' size (that's up to 10kg and 40L). Additionally, the longest side of any parcel cannot be bigger than 96cm.
What do I do if I have more than one parcel to drop off?
If you have an order that contains multiple packages, you will need to create separate labels for each parcel. This will ensure every parcel can be scanned and tracked. Keep in mind that duplicate or previously used labels will be rejected at drop-off locations, and there is a maximum of 20 parcels per booking.
Can someone else drop off my parcel?
Sure, anyone can drop off a parcel that has been booked for drop-off.
I do not have a printer to print my label, can I print it at drop-off?
No, drop-off locations don't have the ability to print off labels and will not accept parcels without a label displaying the barcode for scanning. We've got a guide to preparing your label here!
I've run out of packaging, do the drop-off locations supply packaging?
At this stage, neither Sendle or our HUBBED drop-off locations stock packaging, but you can pick some up from your local office supply stores or online.
My Sendle parcel pickup was missed, can I drop it off?
Unfortunately not. We can only accept parcels that have been booked as drop-off parcels. If you'd like to drop it off instead, cancel your Sendle order (it gets refunded automatically) and create a new one. And don't forget to remove the old label and attach the new label to the parcel!
Can I drop off any Sendle parcel at a drop-off location?
Only parcels that have been booked via the order form as a drop-off parcel can be accepted at HUBBED drop-off locations.
Can I drop off an international parcel?
At this stage, international parcels booked via Sendle can't be dropped off.
Can I use drop-off with the CSV batch upload tool or with other shipping platforms?
Not at the moment. At this stage, you will have the book the orders individually on your sendle.com dashboard.
Is Drop off available via Sendle API?
Yes, it is! You can read more about our API here.
Can I order drop-off parcels with the Sendle dashboard integrations such as Shopify, eBay, or Woocommerce?
Yes! The Sendle dashboard integrations can book drop-off parcels if you are in a location that can access the drop-off network.
What happens if my parcel is returned to sender after I have dropped it off?
The parcel will be returned to the sender's address on the label.
How far in advance can I book a parcel for drop-off?
Up to two weeks in advance.
What if drop off is unavailable in my area?
The drop-off service is initially only available if we can cover your area for pickup as well (this is the current drop-off location map and pickup network coverage here).
Will I receive a confirmation when I drop off my parcel?
Your Sendle tracking page will update shortly after your parcel is scanned at the drop-off location.
---
Before Sendling, you might want to check these out too: