No need to pay for air or extra packing materials, and it's not limited to just documents. Minimum weights got you down? Tired of paying for grams you're not sending? Our 250g Pouch size is your answer.
You can use your own packaging, any shape as long as it's 250g or less.
How are 250g Pouches different from other sizes?
Domestic only
You can send pouches to most places within Australia. If the 250g Pouch price isn't available in your area (due to route limitations), we'll let you know in the order form. You can still send your parcel though!
Pick up and delivery
Pickup and drop off: 250g pouches can be booked for pickup or drop off from a 'Full service' location, if you're on Ship & Save savings level 4 and above (for savings level 3 and under, you'll need to drop it off). Just check out the drop off map when you're booking your order to make sure the one closest to you accepts 250g pouches.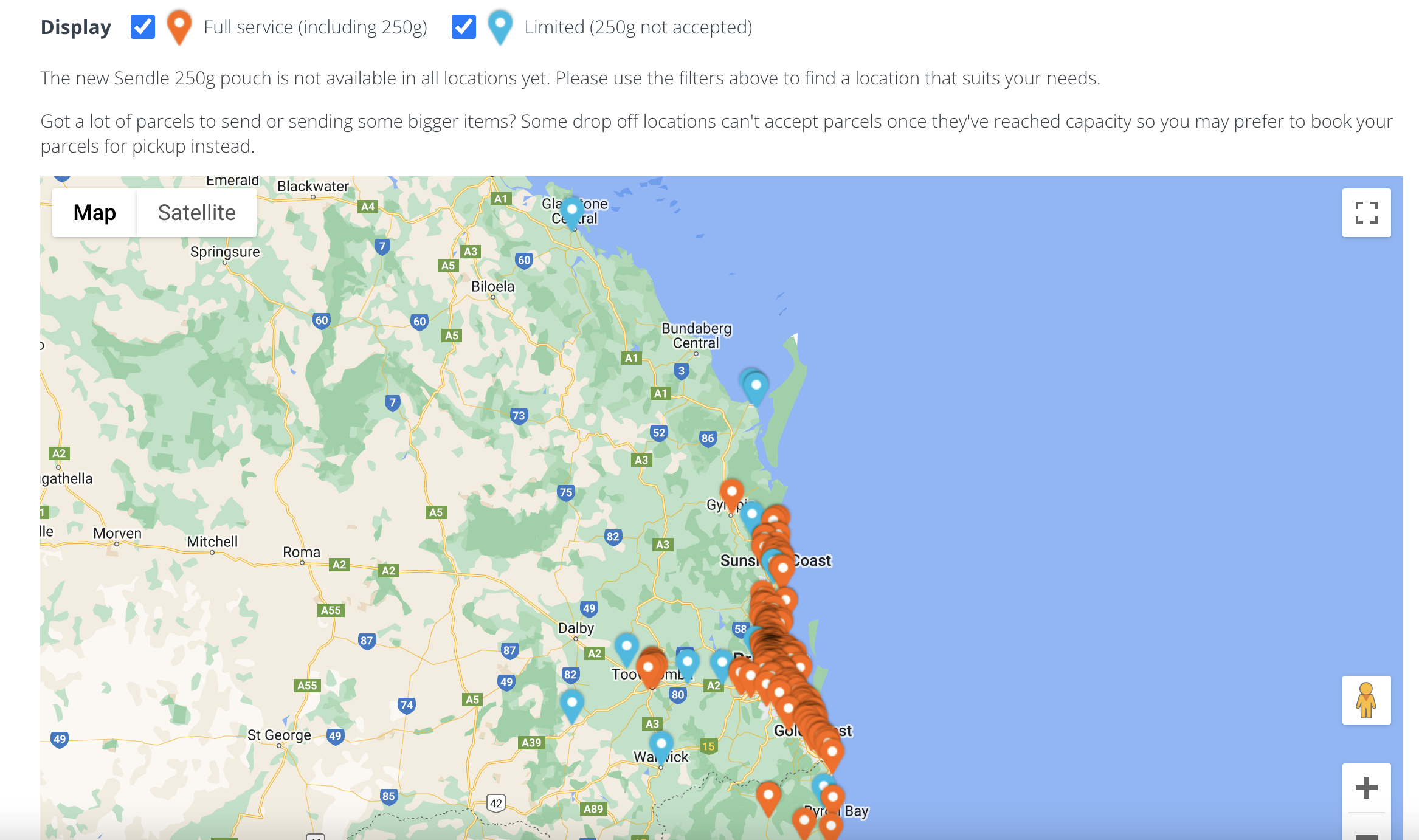 Dedicated drivers: The drivers for our pouches may be different to the drives for our other sizes – so if you have a regular driver, don't be alarmed when someone new turns up to collect your pouches!
Authority to Leave: Sendle Pouches are delivered with ATL.
Pickup and delivery coverage is different from our regular Sendle network.

Check the full list of suburbs with 250g pickup and delivery coverage.
Note: If your suburb isn't on the 250g coverage list, you can still send smaller items with the 500g satchel option.
Packaging and size limits
As long as the total weight is 250g or less, including the packaging, it counts as a Pouch.
Any size works as long as it's no longer than 80cm and, as always, you're free to use your own packaging.
Labels
The label for your 250g Sendle Pouch might not say 'Sendle' on it, and will feature one of our delivery partner logos.
The return address on the label will be a depot, rather than your address.
FAQs
Are pouches eligible for Sendle Cover for loss or damage?
Yep, they sure are.
Can I book 250g pouches using the API?
You certainly can.
Are there any minimum orders for 250g pouches?
Nope! You can send a thousand pouches at a time, or just one – it's up to you.
Is it pickup and drop off?
The 250g Pouch is drop off only for Sendle accounts on Ship & Save savings level 3 and under, and both pickup and drop off for Ship & Save savings levels 4 and above.
I can't see the option for Sendle Pouch, what's going on?
If you don't see the Pouch option, it might just be because it isn't available for your pickup location yet. You can still send your parcel, it just won't be the 250g Pouch price.
All my pouches were picked up, but my dashboard says only one was – what's going on?
Sometimes pickup drivers only scan one pouch when they collect a group of them, and the rest are scanned at the depot (otherwise our drivers might spend all day scanning parcels and never manage to deliver any).
So if all your pouches were collected but you can only see tracking info for one of them don't panic – your parcels are safe with us. If they still haven't been scanned after 24 hours, let us know and we'll chase it up for you.