Our motto for perfecting packaging is: well packed, arrive intact!
Because even though knocks and bumps are an expected part of shipping, we want your parcel to arrive in perfect condition just as much as you do.
Currently, Sendle doesn't supply any packaging. But, you can take advantage of bulk-buying whatever type of packaging you prefer – just avoid flat-rate carrier-branded stuff as we can't ship those.
We recommend shopping around online or checking out your local office supplier.
Avoid heartache and follow our 5-step guide for perfect packaging:
Double box your products: place one container inside another with cushioning material (such as scrunched up newspaper or packing peanuts) between the two. It may feel like overkill, but you'll thank us later when your fragile items arrive in one piece.

Your packing materials need to be tough and strong, as you want a nice hard shell for your products to travel in.

Fill empty space to keep things in place and prevent rattling. Just as at the cinema, silence is golden.

Seal it shut with strong tape.

Don't substitute secure packaging with "fragile" or "handle with care" stickers. Machines can't read these stickers (not yet, anyway…) and they can't guarantee the safe arrival of your shipment.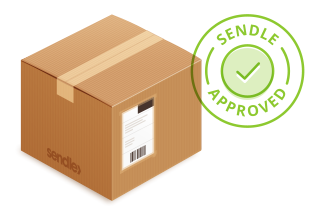 If you're sending fragile items
If your parcel is particularly fragile or contains sharp or crushable items, please do this in addition to the above:
Double-box your parcel (placing one container inside another with a cushioning material such as scrunched up newspaper).

Pad each item separately with bubble/foam wrap, tissue paper, or newspaper.

Pay special attention to the corners, edges, and bits that stick out.

Use strong rigid material larger than the object to minimize chances of crushing (if, for example, it is a photo, drawing, or other fragile artwork).

Mark with appropriate labels (for example: write "contains glass", "this way up", etc).
Don't use these!
We can't transport deliveries which are only packaged in:
Plastic bags

Bubblewrap

Anything else transparent!

Fragile stickers instead of actual packaging materials
Keep these in mind
If your parcel contains liquids, is sharp, or could damage other parcels in any way then it is your responsibility to ensure that the packaging prevents damage to other parcels (

check this article on what you can't Sendle!

).

Sendle does not offer compensation or

cover

for damaged parcels (it's your responsibility to make sure the parcel is appropriately packed)

Want to become a labeling extraordinaire?

We've got you covered

!