This article is about sending packages from our countries of operation. If you're after info about sending packages to an international destination, we recommend checking out the international section of our help center.
If you want to use Sendle's simple, reliable and affordable delivery to ship parcels from the U.S., Australia, and Canada, step right this way!
Create a Sendle account for separate countries
To ship with Sendle in any and all of the countries we operate in, you'll need to create a separate Sendle account for each.
For example, if you already have a Sendle account within the U.S., but you also have a business that ships from Canada, you'll need to log out of your U.S. account and create a new one with Canada settings.
Here's how:
Choose the country you want to ship from, using the drop down menu (U.S., Australia, or Canada).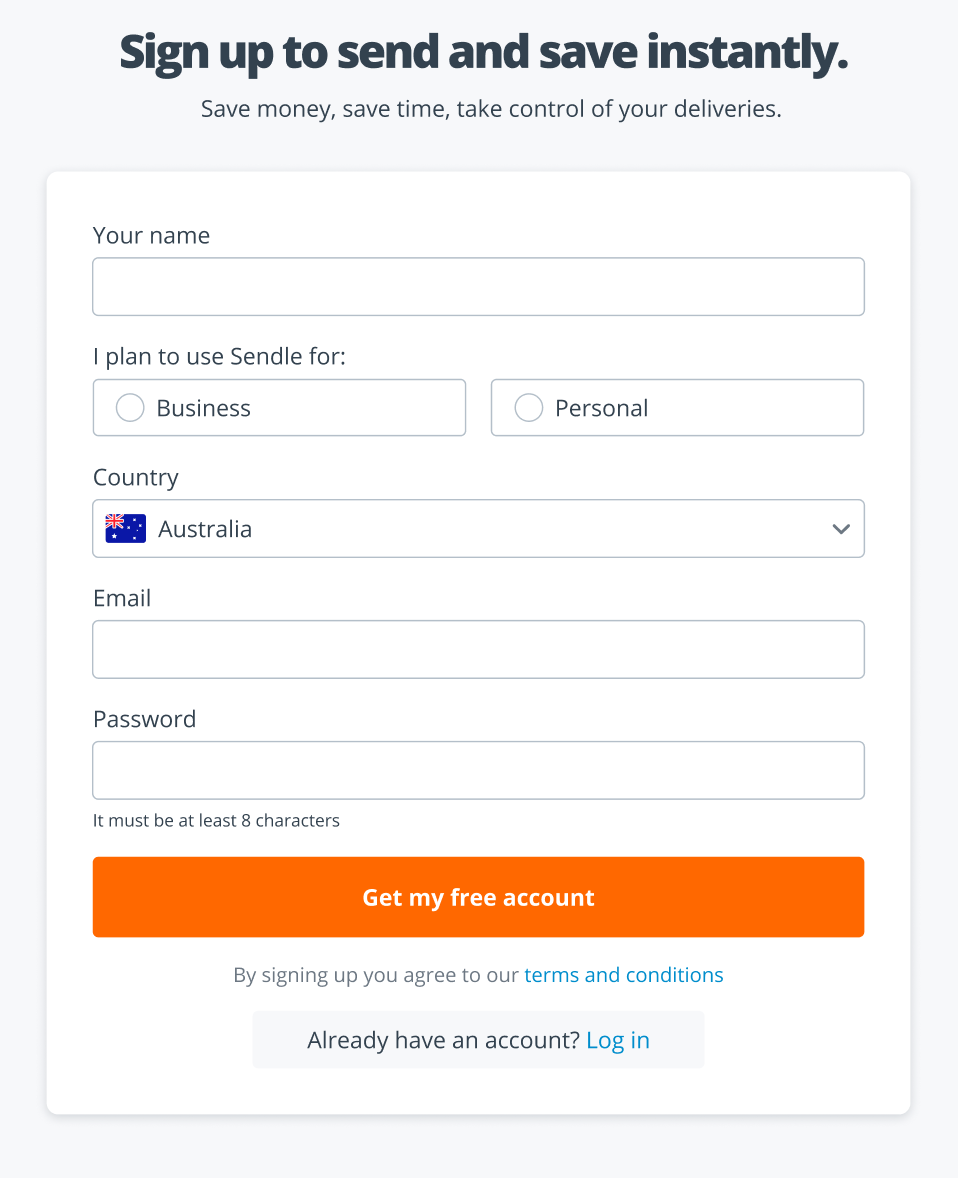 Use a new email address for each account you create. This is important – so if you haven't got one handy, check out our tips below.
Fill out your sender details, tick the box that says you won't send anything naughty, and you're good to go! Just make sure you're signed in to the account you want to send from each time you open your Sendle dashboard.
Use a different email address
You will need to use a separate email address each time you create a new Sendle account.
This is mostly because the Sendle system works slightly differently in each country, but also so we can track each packagecorrectly, and communicate with you about the most relevant stuff.
If you don't have a separate email address for the country you want to send from, you might want to consider setting up an alias email address for your Sendle account (which uses the same inbox, contact list, and account settings as your primary email address).
Quick tip on creating a separate email address: most email providers allow you to create a new email address simply by adding the plus sign (+) to your current email address, without having to register them. For example: adding 'us' to your current email address: name+us@yourdomainname.com.