This article will help you understand how Sendle's pickups work and how to make it a smooth and easy process.
How to book a parcel pickup via the Sendle dashboard:
Log in to your Sendle dashboard.

Click 'Send a parcel'.

Fill in the details about the parcel you're about to send.

Choose an estimated pickup date from the drop-down menu: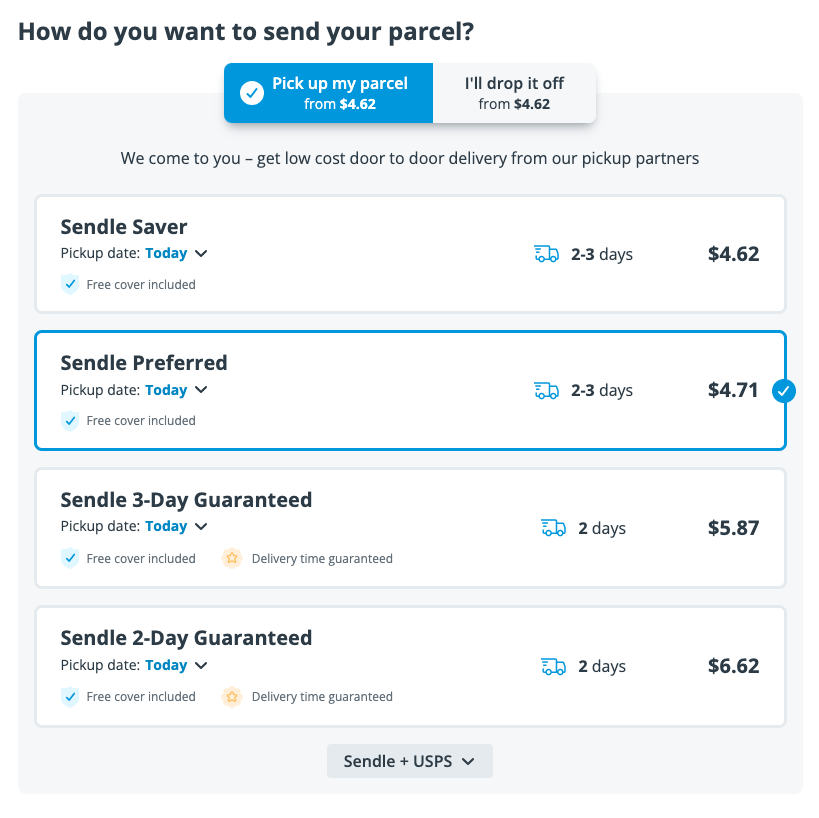 Leave helpful pickup instructions
Make sure you leave great pickup instructions to help the driver find your address and locate your parcel easily. Especially if it's not left in an obvious place.
Tips for writing pickup instructions:
Keep it short and simple (with the most important instructions at the beginning).

As above, your instructions should stay under 40 characters.

Don't share your lock codes or passwords (stay safe!).
How to add and save your pickup instructions:
You can add pickup instructions to your order form each time you book, or you can:
Go to your

Sendle dashboard

.

Click on your account settings.

Go to the 'Sender details' tab.

Save your pickup instructions to your account.
Things to keep in mind for pickup
Making it easy for drivers to find your parcels for pickup will ensure the whole process runs as smoothly and efficiently as possible. We've laid out some simple things you can do to help your local drivers:
Leave your parcels in a safe space that's easily accessible to the pickup driver, including pickup instructions if the parcels are hidden from view (for example: 'parcel left behind the potted plant').

For parcels booked with multiple delivery drivers (different carrier logos on the labels), we recommend you separate them into piles clearly marked for the appropriate driver for pickup.

Make sure the parcel is within the size of the category booked. This will prevent parcels from being returned to you for incorrect sizing.

Keep animals away from the pickup location. For health and safety reasons, delivery persons cannot enter premises where there are animals outside or pets in the yard near the parcels.
For security reasons, a driver will not pick up parcels that are located in a locked facility (for example: a shed, locked box, storage facilities with no reception area)

If you've booked over 100 parcels in one order, please let us know. We'd like to ensure a smooth pickup experience (and turn up with the right equipment and space in the truck).
This is what's happening on the driver's end
On the day you have requested, Sendle books your order with the local delivery partner assigned to your collection. This happens at 4am-6am so the driver will have all of their bookings before they start their day.

In the morning, the driver will collect parcels from the areas they serve and drive them back to the local hub for sorting. Typically, they have a midday and afternoon deadline to get back to the hub for sorting.

At the depot, they sort parcels, load parcels into their trucks for delivery, and get updates from their local managers.

Once their trucks are loaded, they drive back out to the areas they serve.

In the afternoon they collect parcels that have not yet been collected and deliver the parcels in their trucks.
Keep in mind that a driver can often serve five or six neighboring areas and have hundreds of shipments to collect in every shift, and these collections can occur anywhere from 8 am to 6 pm.
Our drivers work on a very tight schedule to be able to pick up and deliver hundreds of parcels every day. Their routes are generally unpredictable due to traffic and sudden changes, and this is why they can't call ahead or schedule a specific time for you.
---
Related articles: