Choosing the right size option for your parcel will ensure there are no hiccups along the way. And we can show you how!
This article has all the information you need to master the Sendle booking process, how to choose the right size for your parcel, and how the shipping cost is calculated.
If you want to know what sort of things fit into each parcel size and the most common box sizes for each, check out our Package Size Guide!
On this page
Size calculation / Maximum sizes / How to manually calculate cubic volume /
How to simply calculate your parcel volume / Mailing tubes/cylinder-shaped parcels / Parcel restrictions
Size calculation
Sendle has seven general parcel sizes to slot your shipment into. Think of each as a size ceiling that your parcel must fit under to qualify. Using weight and volume, you can easily find the parcel size that's right for your shipment.
You need to choose a size that is under both the weight and volume limit (unless you are using the first two sizes). Make sure you include your outer packaging when calculating the size! Here are the current Sendle size options:
0.5lb Parcel (<0.5 lb)

1lb Parcel (<1 lb)

Belt Bag (<5 lb

and

<172 in³)

Handbag (<8 lb and 354 in³)

Shoebox (<10 lb

and

<518 in³)

Briefcase (<15 lb and 691 in³)

Backpack (<20 lb

and

<864 in³)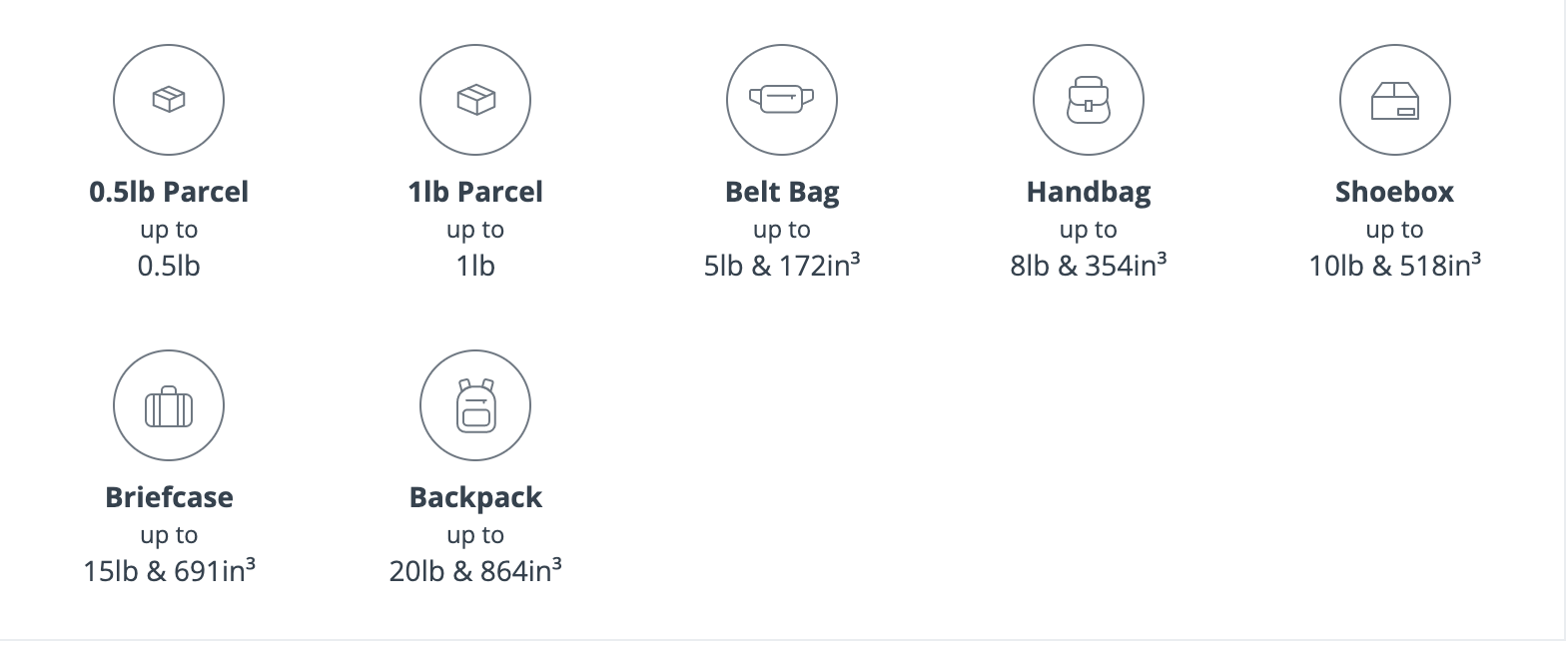 If you are more the table type, here is a simple breakdown of our package sizes:
Weight
Volume
0.5lb Parcel
<0.5 lb
Unlimited*
1lb Parcel
<1 lb
Unlimited*
Belt Bag
<5 lb
Up to 172

in³

Handbag

<8 lb

Up to

354 in³

Shoebox
<10 lb
Up to 518

in³

Briefcase
<15 lb
Up to 691

in³

Backpack
<20 lb
Up to 864

in³
*not to exceed a combined length and circumference of 108" and sides cannot exceed 22"
Maximum sizes
The maximum combined length and circumference of any parcel is 108" (this includes outer packaging).
Circumference is width plus height multiplied by two, so combined length and circumference = L + 2x(W+H).

The maximum length of any side is 22"

The largest standard-sized parcel (booked as a custom size) is 50 lb and up to 3,000 in³
A note for Pro customers: Depending on your location, you could have access to a higher maximum custom parcel size with our 'Preferred' service. This will show up in your dashboard if it's available to you.
Size and weight examples
Both of these fit under the weight and volume limit for a 20 lb and 864 in³ large box size parcel:
12" x 12" x 6" (864 in³) + 18 lb

10" x 6" x 2" (116 in³) + 11 lb
Neither of the following parcels fit into the 20 lb and 864 in³ size parcel. Either the weight or the volume exceeds the parcel limits:
10" x 10" x 8" (810 in³) + 25 lb = too heavy

14" x 14" x 10" (1964 in³) + 5 lb = too large
If the item you're sending is over-sized, the parcel will get returned to the sender and Sendle will not be able to refund the original shipping cost.
For example (and from our experience), while prams and bikes aren't prohibited, they are simply just too big to send with Sendle. This is also why it's probably not best to use Sendle if you're moving house!
How to manually calculate cubic volume:
Volume is calculated as a cube (like a box). We represent this volume in cubic inches, so it's super easy to figure out. Find your volume in cubic inches by just multiplying your box length by width by height in inches. Voila! Volume!
How to simply calculate your parcel volume:
Right in your 'Sending' dashboard, you'll see our sizing tool. Simply enter your box dimensions and weight to automatically get your correct parcel size. It'll even select it for you.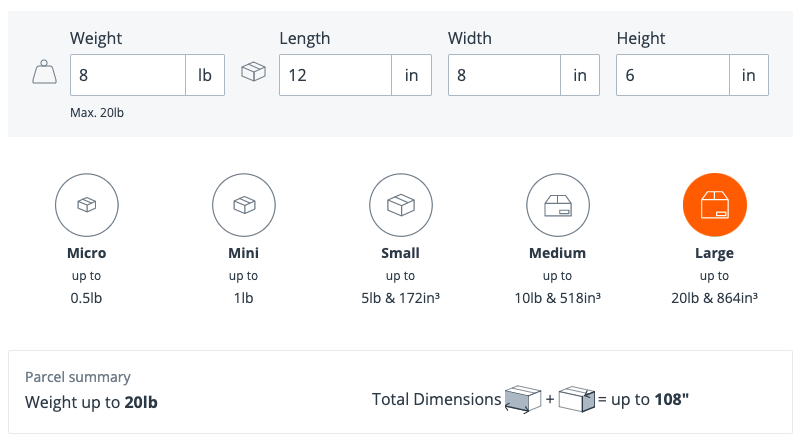 Mailing tubes/cylinder-shaped parcels
Mailing tubes, or any parcel that is cylinder-shaped, are charged on the same basis as all Sendle parcels—that is, we need to consider both the weight (in pounds) and the volume (in cubic inches).
To find the volume of a cylinder is a bit more complicated than your standard box. In equation form that looks like V=𝝅

r

2

h

. If that's your thing, have at it.

To make your life easier, use this handy calculator to find your cubic volume. In the calculator, you can simply enter your radius (half your diameter) and the cylinder height to get your cubic inch volume. Much nicer than whatever math lecture we would have put you through.
Now, you've got your cylindrical volume in cubic inches. Great job!
Here's an example: A tube that is 40 inches long and a radius of 5 inches would come to approximately 3,142 cubic inches, a volume far larger than our standard sizes allow.
Parcel restrictions
In addition to the cubic volume, weight must also be considered when selecting the right parcel size. For example, if the tube has a volume of under 500 cubic inches and weighs under 10 lb, it must be booked as a Medium Box size (<10 lb and <518 in³).

All standard-sized parcels sent with Sendle need to be under 864 cubic inches, under 20 lb, with a combined length and circumference of 108" or less, and sides cannot exceed 22" in order to be fit for Sendle.

Also, take note of how your label fits on the tube. It's very important that the parcel can scan correctly. Otherwise, the carrier may reject it at pickup.

If your parcel is weighed and measured at the depot and found to be larger than the size it was booked (including the outer packaging), you may receive adjustment charges to your order.
---
Want to get started? You might like these: