Sending parcels with Sendle is super easy. You can get quotes, book deliveries, and print labels straight from your dashboard.
Below is a step-by-step guide to sending your first parcel with Sendle, once you have created an account.
(Haven't done that yet? No problem—head to sendle.com and hit 'Get started'. We'll be waiting for you back here.)
Sending your first parcel
1. Open up your dashboard and click 'Send a parcel' below 'Welcome to your Sendle account!'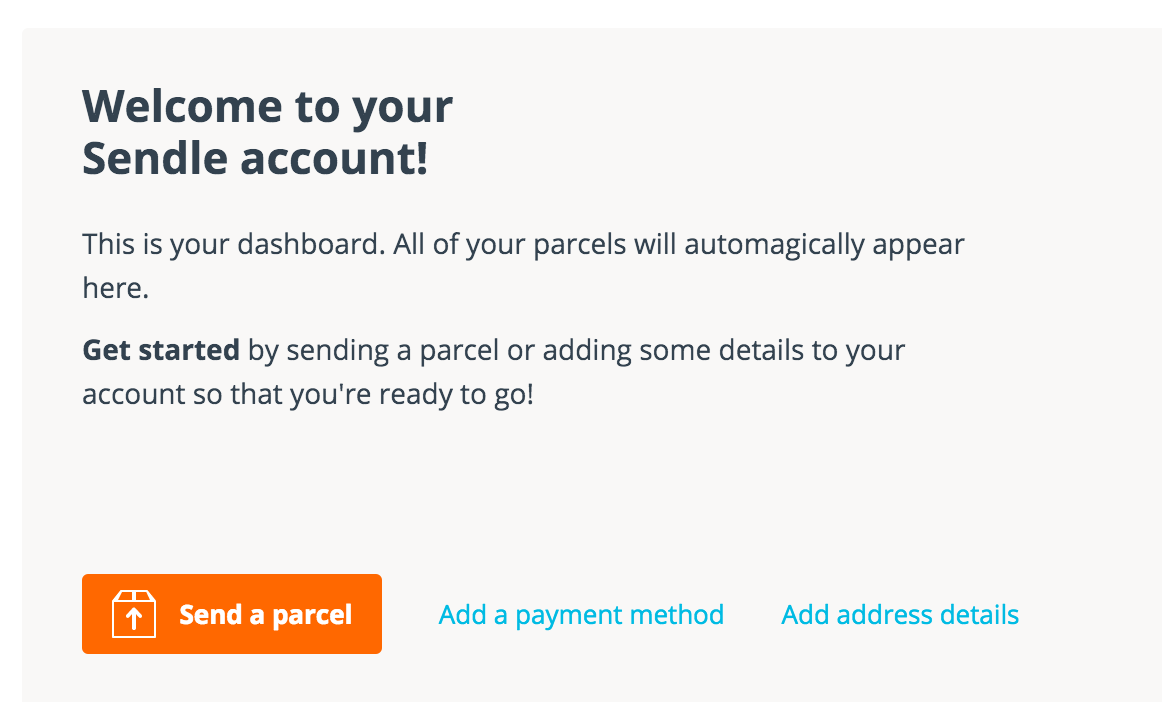 2. You will then get a prompt to fill in your address and contact details. This information will be saved in your account settings to make future shipments much faster (but you can change it on the fly if you need to).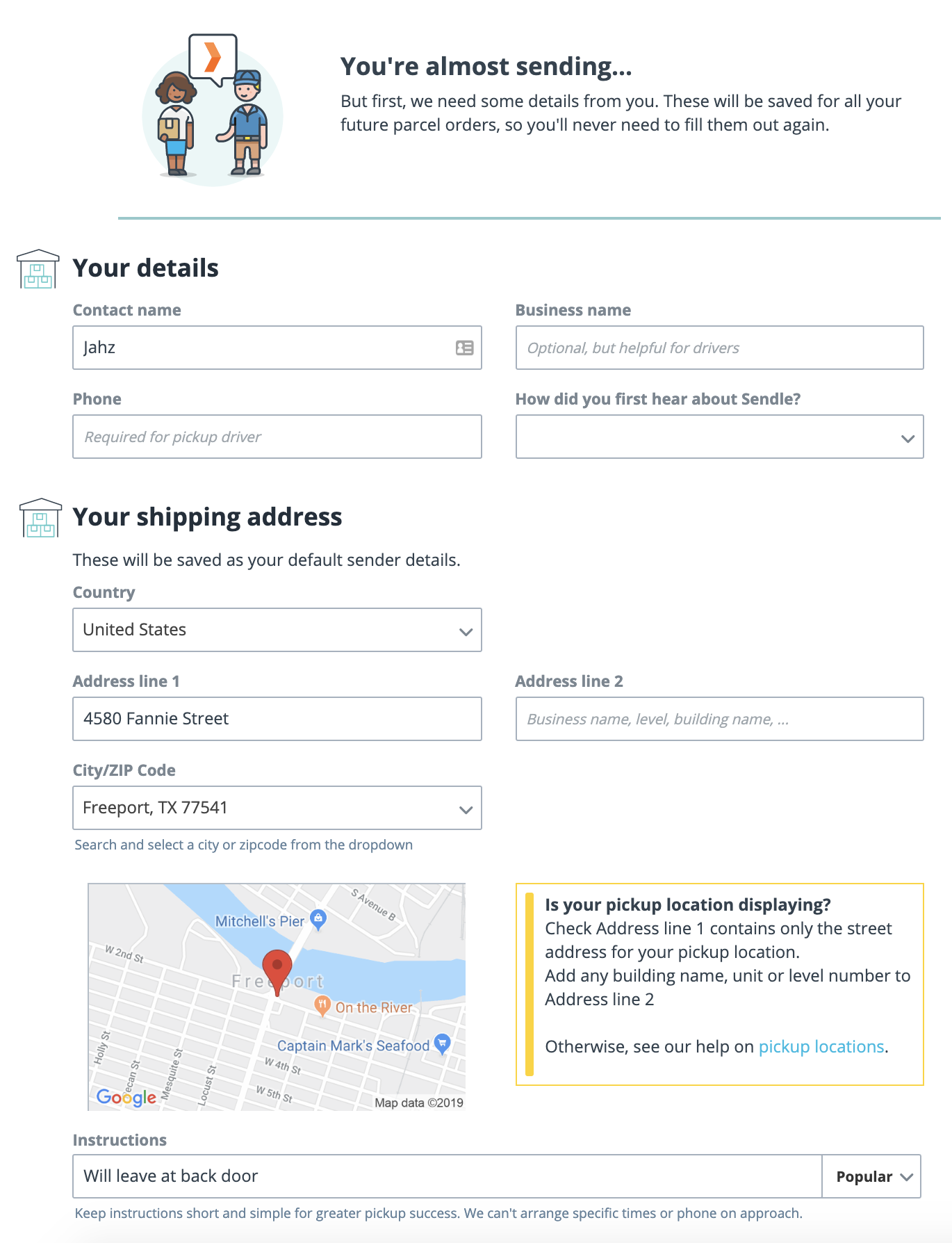 3. Then you'll need to pick the right parcel size and weight for your delivery. If you're unsure about your parcel size and weight, you can use our calculator on the order page.

4. You can get a quote to estimate delivery costs to your delivery destination by filling out the zip code and parcel size in Sending. Once you're happy with it, enter the rest of the delivery information.
5. Tap 'Create order' to review your order, address details and parcel size.
6. You'll then be prompted to complete your payment information. This will need to be a credit or debit card. Your payment will be charged on Sunday.
7. Once your card details are successfully added to the order, you can confirm the order.
8. You'll be directed to your dashboard to download and print the label for your parcel (make sure you don't resize or shrink it!). Then you can easily track it while it's in transit.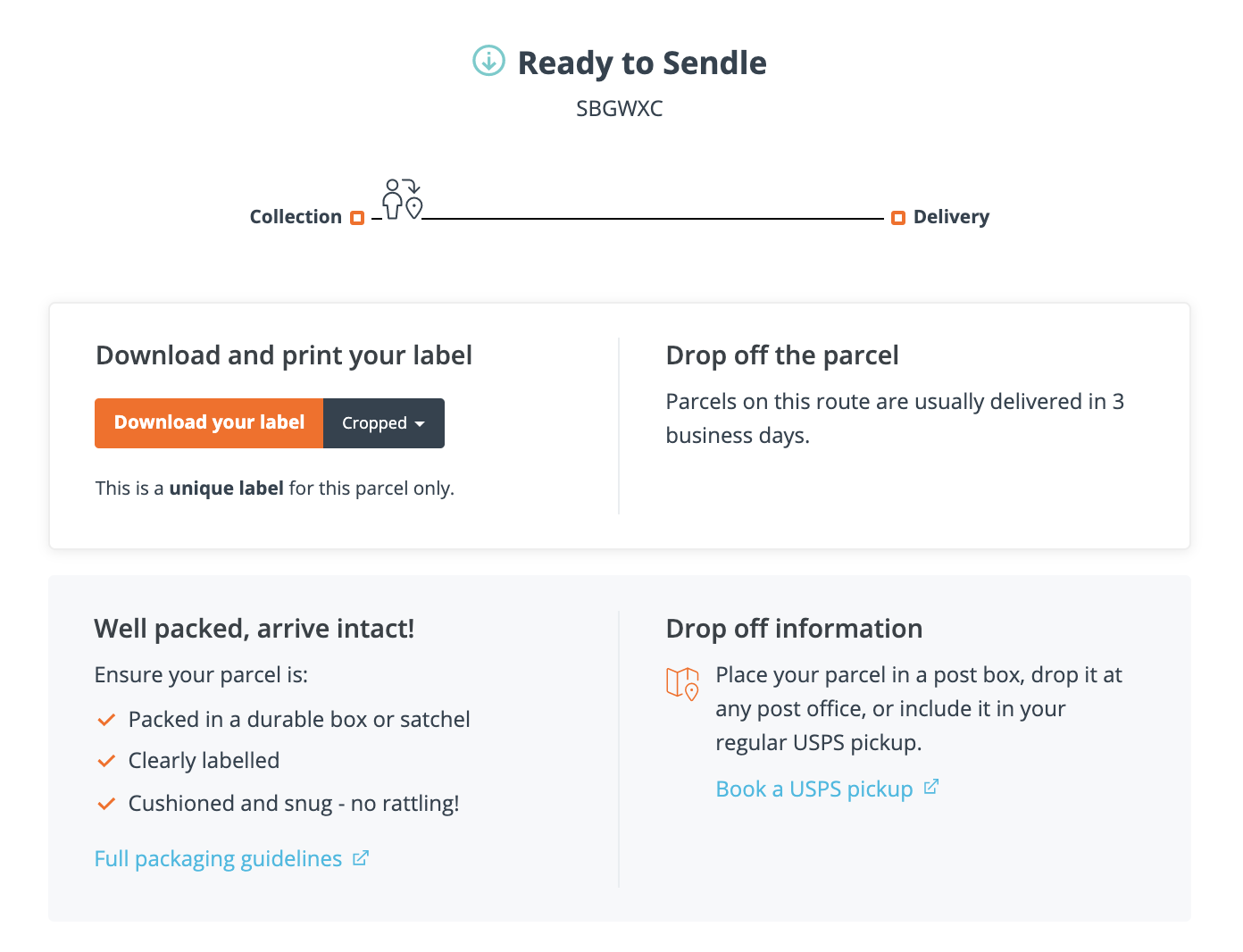 Pack it up
Now it's time to safely pack your shipment and attach the label so the driver can easily identify it (and so that we can track the parcel each step along its journey).
Yay, it's the big day!
Make sure your packages are ready for drop-off or pickup.

If you've booked your parcels for drop off: gather your packages and drop them off at your nearest

drop off point. We'll provide you with drop off instructions when you book your delivery

.
If you've booked your parcels for pickup: place your packages neatly at your front door, or wherever you've indicated in your pickup instructions. If you have multiple packages with different carriers listed on the labels (for instance, USPS and Swift), keep these clearly separated for the different pickup drivers.
You'll be able to track all your deliveries in your dashboard, and we've made it easy to manage your parcel in your Sendle Toolbox.
---
These articles might also be handy for your next parcel delivery: