If you are having any trouble printing your Sendle labels, you are in the right place. In this article, we'll troubleshoot the most common issues with label printing.
But first, let's go over how to print a label.
How to print a shipping label
Once you've created your order, you can open the label in your browser by clicking the 'Download your label' button.

The label will open in a new browser tab, from which you can print or download to file.

You can print straight from your browser or from the PDF file saved on your computer.

If printing from browser

: Just click the printer icon and print. Note that your printer may cut off a small part of the top and left of your label. This is totally fine and will not affect shipping.

If printing from file

: When printing from the PDF file, it may scale your label to fit the page. Just check the settings in the print screen to make sure the scale is set to 100%.
Troubleshooting: shipping label prints too big
If you are finding that your label is coming out at full letter paper size, instead of the normal 4x6 size, you just need to fix a print setting.
In the print screen, you should see that 'Scale to Fit' is selected. You want to instead click 'Scale' and change it to 100% (it is likely auto set to 178%). Then just print! There you go, a normal-sized label.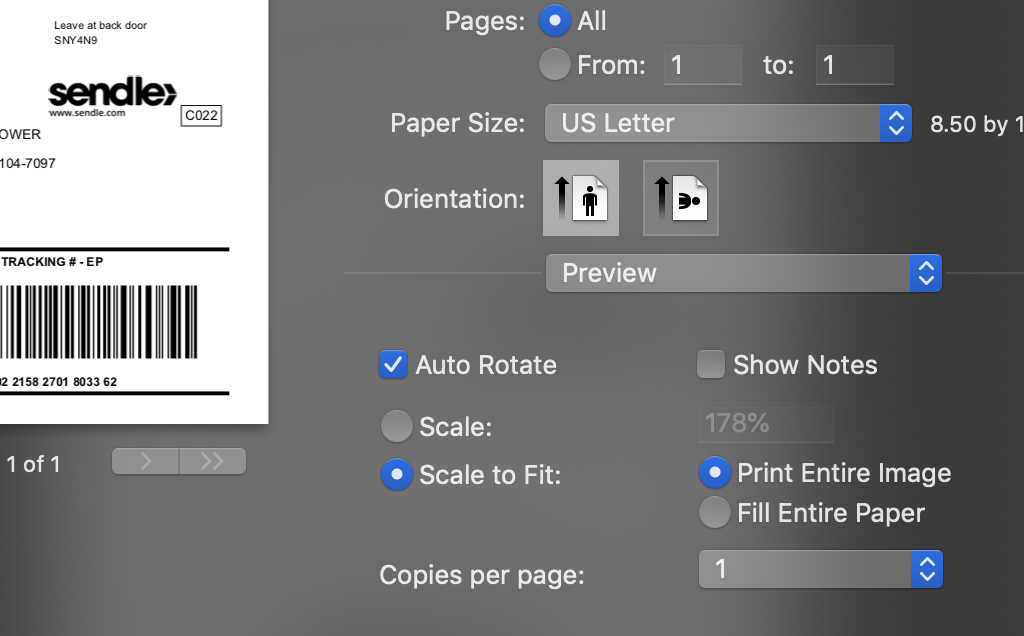 Troubleshooting: edges are cut off when printing label
When printing from the browser, some printers have been cutting off the top and left edges of the label. If this is the case, you can always print from file.
Or, don't worry about it. If a little of your return address is cut off, it won't affect shipping at all. EXCEPT, if your shipments need to be returned to you for any reason. In that case, it is best to print from file.
---
Here are some other helpful articles for you to peruse: